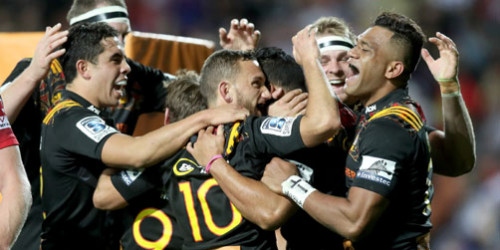 Now on 29 points, the Blues are equal with the Brumbies and one point behind the Waratahs.
The Chiefs regained the overall lead in the competition and with the bonus point they are one point ahead of the Crusaders.
New Zealand Conference
With both the Highlanders and Hurricanes sitting out byes for the weekend, there was little points table action overall. The Chiefs' 36-15 win over the Rebels was enough to secure a bonus point.
With the Crusaders one point behind, the Highlanders sit on 37 and the Hurricanes on 36. The Blues have reached 29. They face the Crusaders next week in Auckland and after the June break they play the Hurricanes in Wellington, the Brumbies and the Waratahs, both in Auckland, a testing finish.
The Chiefs play the Waratahs on Friday and then meet the Crusaders in Suva after the break and finish off with away games against the Reds and Highlanders.
After their Suva game the Crusaders host the Rebels and Hurricanes in Christchurch.
Australian Conference
The race is still on for the play-offs spot in Australia with only one point separating the Waratahs and Brumbies. It is shaping that the Brumbies will suffer because of their failure to score all but one bonus point only the Kings, who have no bonus points, have less across the whole competition.
The Waratahs do have the tougher end to the season against the Chiefs, Sunwolves, the Hurricanes and Blues while the Brumbies face the Sunwolves, Reds, Blues and Force.
South Africa 1
The Bulls secured a valuable 17-13 win over the Stormers to keep interest high in the final outcome of this conference. Both sides are on 32 points with the Stormers six bonus points keeping them in touch while the Bulls have scored only two.
The Bulls face the Lions, Jaguares, Sunwolves and Cheetahs in the rest of the series while the Stormers play the Cheetahs, Rebels, the Force and Kings.
South Africa 2
The Lions 52-24 win over the Jaguares has seen them gain a vital march on the Sharks who have the bye next weekend. The Lions are two points ahead but face a big test before the June window when travelling to Pretoria to play the Bulls. They have yet to play the Sharks, Kings and Jaguares while the Sharks' last three games are against the Lions, Cheetahs and Sunwolves.