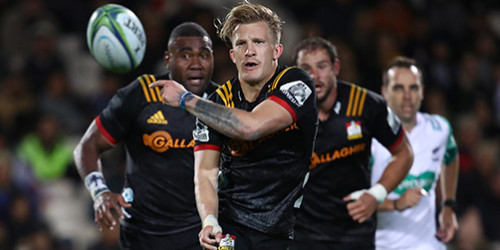 Home: FMG Stadium
Last Season: Sixth
Squad
Kane Hames, Aidan Ross, Reuben O'Neill, Nepo Laulala, Angus Ta'avao, Atu Moli, Sosefo Kautai, Nathan Harris, Liam Polwart, Brodie Retallick, Michael Allardice, Finn Hoeata, Samisoni Taukei'aho, Laghlan McWhannell, Sam Cane, Luke Jacobson, Mitchell Karpik, Teleni Seu, Mitchell Brown, Lachlan Boshier, Pita Gus Sowakula, Tyler Ardron, Brad Weber, Jonathan Taumateine, Te Toiroa Tahuriorangi, Damian McKenzie, Tiaan Falcon, Marty McKenzie, Baylin Sullivan, Anton Lienert-Brown, Alex Nankivell, Ataata Moeakiola, Jack Debreczeni, Shaun Stevenson, Solomon Alaimalo, Sean Wainui, Tumua Manu, Etene Nanai-Seturo.
---
QUICK TAP: SUPER RUGBY REFEREE TEAM ANNOUNCED
---
Game breaker:
In a Rugby World Cup year there is always a chance for bolters, often the backline is the area where players emerge. The skills that Solomon Alaimalo showed last year suggest that if he manages to build on the consistency of effort he produced for the 2019 campaign the prospects are limitless. It only ever takes an injury to take an incumbent out of the equation and there could be opportunities for a player like Alaimalo to make his case. An exciting player he should add much to the side's attacking strengths.
Key signing:
Former Rebels and Northland five-eighths Jack Debreczeni is an interesting signing for the side given the resource the Chiefs have in his favoured position with Damian and Marty McKenzie and Tiaan Falcon to call on. However, Debreczeni does offer valuable cover and if there are ever any goalkicking issues he is a handy man to have. He has a utility factor at fullback and in the midfield so has the chance of offering back-up relief for the side should injuries occur.

Former Chiefs winger Roger Randle to join the Gallagher Chiefs coaching group for the 2019 Investec Super Rugby season ??

FULL STORY: https://t.co/kxhH2afIUQ pic.twitter.com/NZUWN7vFLp— Gallagher Chiefs (@ChiefsRugby) February 1, 2019
Returning veteran:
The Chiefs next most likely centurion Brodie Retallick is an immense driver for the side and while he was always a contributor to the leadership group, he has taken that a step further with a share of the captaincy with Sam Cane. It is unlikely that Retallick were ever need to say much, rather it is a case of following the example of commitment, effort and nous that he gives the side to produce the required effect. The important measure will be what effect the captaincy has on Retallick's own game and if his care and responsibility diminishes his physical output at all. It is unlikely but something that adds another facet of interest to his play.
The Scoop:
Any side losing players of the quality of Liam Messam, Tim Nanai-Willliams, Charlie Ngatai, Dominc Bird, Toni Pulu and Karl Tu'inukuafe, among others, has a lot of experience absent for a campaign. However, the players the Chiefs have gone with suggest an exciting future for the side and while that could come at the cost of consistency while the side beds in, there is little doubt that the best combination the Chiefs could put on the field would still be competitive with any other side in the competition. It has solidity up front, serious potential among its loose forwards and attacking quality in its backline.

?? How good was Brodie Retallick's 'show and go' last year? Anton, Nate and TTT take a close look at the big man's ball skills.

??? Want to catch more action live? grab your @ChiefsRugby season tickets here: https://t.co/sdHAZPTsNb pic.twitter.com/qkkipte4pL— Super Rugby (@SuperRugbyNZ) February 1, 2019