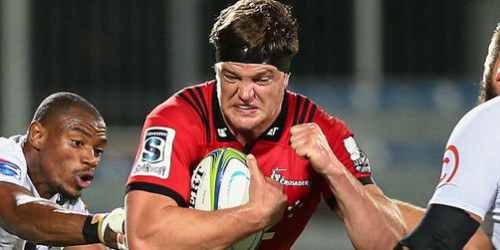 On that occasion, two years ago, the Crusaders ran up 62 points but Robertson said the Bulls were a significantly different side from two years ago and Springbok loose forwards Duane Vermeulen and Schalk Brits had added plenty of experience to the side when joining them for the 2019 campaign.
"With [Schalk] Brits coming back there is a little bit of experience, quality player, a bit of a talisman for them and they have Jason Jenkins coming back for them in the second row, he's about 7ft 2in.
---
QUICK TAP: SHARKS IN HAPPY PLACE AHEAD OF CHIEFS CLASH
---
Robertson acknowledged the return of No.8 Duane Vermeulen to Super Rugby had also been of benefit to them.
"He's experienced, tough, makes some big plays and can change games and wins a lot of moments for them so he's a big get for them and for South African rugby in general," he said.

?? The @BlueBullsRugby have welcomed back a couple of Springbok forwards for their clash with the @crusadersrugby in Pretoria on Saturday morning.

READ ?? https://t.co/LeQJxMKeiB

? Saturday, 5.10am
?? Loftus Versfeld, Pretoria
?? #BULvCRU pic.twitter.com/a13vWb2JK0— Super Rugby (@SuperRugbyNZ) May 7, 2019
"We've had some great battles over the years with the Bulls side and we're hoping for a good crowd and a great game," he said.
The mystique that surrounded visits to Loftus Versfeld for New Zealand sides had abated in recent seasons where the win/loss ratio had rebounded considerably to New Zealand sides.
However, the Bulls had played some good rugby this year beating the Stormers 40-3, the Lions 30-12, the Sharks 37-14, the Reds 32-17 and last week the Waratahs 28-21.
"It will be interesting to see how they go against us coming over, and obviously on the veldt. They're a different side from two years ago, no doubt about it. There's a lot more experienced players and there's some definite quality in their team and they are definitely harder to beat," he said.

Here's our team for Friday night's match v @BlueBullsRugby - that's 5.10am on Saturday for everyone back home in NZ! #setthealarm #BULvCRU Read more at https://t.co/f24oj5pFXe pic.twitter.com/eEdTyVoH8N— BNZ Crusaders (@crusadersrugby) May 8, 2019
After their hard-earned draw last week against the Sharks, Robertson said the concentration in preparing in Pretoria had been on the several opportunities they hadn't taken against the Sharks, and their discipline. It would be a case of trusting in their game and being disciplined, especially when they didn't have the ball.
The fact that the only try scored against them in the last two games had been an intercept by the Lions meant they had confidence in their defence.
Dealing with the likes of Jenkins and the big men in the Bulls lineout it was a case of being smart in how they competed, several of the players had played him a lot and it was a case of respecting both their size and their technique, he said.
ROOKIE LEADERBOARD | Tom Robinson extends his lead at the top and Richard Judd makes his way on to the leaderboard ??#RaiseTheStakes pic.twitter.com/Me068pv1au— Super Rugby (@SuperRugbyNZ) May 8, 2019