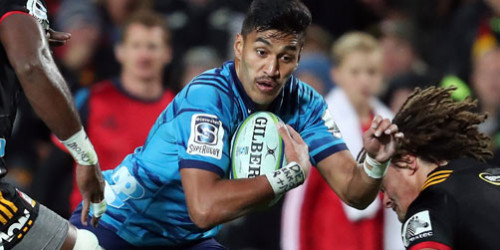 It is more than a straight win that is required. It is also about ending a frustrating run of games since 2011 in which they haven't beaten their southern neighbours who continue to defy the injury odds they have suffered by producing quality performances.
---
Blues coach Leon MacDonald said the way the Chiefs played the game meant they were always in it and they were capable of striking from anywhere and were probably just as dangerous in their own 22m area as they were at the other end of the field.
"We respect them. They beat us a couple of week ago at home and we're looking forward to the rematch," he said.
All Blacks lock Brodie Retallick would be missing from the Chiefs side but MacDonald felt the inspiration and example he gave the side earlier would see his spirit at least represented in the performance of their tight five.
There had been attention paid to the Blues' rolling maul, and he said, "If you can dominate the maul you don't have to play a lot of rugby do you? You just have to walk it over and that's an area we've been working hard on."
MacDonald said the side put the frustration of Friday's loss to the Hurricanes to the side when coming back on Monday and they looked to rebuild the pieces towards a complete performance.

Here we go. Blues vs Chiefs Round 2!

Get your tickets???? https://t.co/KHwd9V9jAx#RiseUp #BluesAllDay #BLUvCHI pic.twitter.com/J4kYNS3bEu— The Blues (@BluesRugbyTeam) May 16, 2019
"When you look through the footage we were pretty happy with the way we played. We just didn't quite get it right in certain moments and we could have done with the rub of the green with a few calls as well. We've just got to make sure we continue the good things we've been doing and just keep working hard on other areas," he said.
At different parts of the season the side had clicked in different areas but it hadn't come together and there was a feeling that when that happened they could produce the sort of performance that could beat anybody.
"We've looked at areas where we've been doing reasonably well and areas we want to solidify and we've got good options at the moment in a lot of positions. Some guys are playing good rugby week in and week out."
The decision to have Karl Tu'inukuafe coming off the bench as tighthead cover for Ofa Tuungafasi was made with a view to maintaining the set-piece pressure they had been able to create in recent weeks.
Harry Plummer has been retained at first five-eighths and MacDonald said he had been confident in his play in the first 25 minutes before suffering an injury.
"I think he sparked a lot of our attack. He was always looking for opportunities to take the line on which was what we picked him for and asked him to do and he did that really well.
"He's been an impressive young man and he's had to go away and work at his game throughout the year. He's had a few setbacks and things haven't gone his way completely but in terms of sticking to his guns and working hard he's done that and he deserves another start," he said.
Halfback Sam Nock suffered a season ending injury to a finger last week and he had surgery on Thursday leaving Jonathan Ruru to start ahead of Augustine Pulu.
"That was a tough call and we could have gone either way there but we just felt Jono's delivery and his ability to clear the ball gave him the nod," he said.
There was also a desire to get top-flight wing Rieko Ioane into the game and MacDonald was hopeful he would see a lot more ball this week.
?? Remember how this match finished back in Round 9???

The replay. Saturday night. Who will win this one?

? Saturday, 7.35pm
?? Eden Park
?? https://t.co/HxfjxQZK0Z
?? #BLUvCHI pic.twitter.com/gA7mY8TjBd— Super Rugby (@SuperRugbyNZ) May 15, 2019