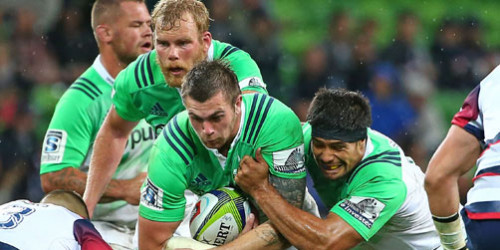 They've already claimed the Crusaders' scalp in the quarter-finals last weekend and now they have their sights set on the defending champions, the Highlanders, who have travelled to Johannesburg for their semi-final.
---
QUICK TAP: JOSEPH BELIEVES HIGHLANDERS CAN LIFT IN FINALS
---
Lions attack coach Swys de Bruin told Supersport.com in South Africa that unpredictability was the key to beating New Zealand teams on a regular basis, as the Lions have been able to achieve this year.
"I think the trick against the New Zealand sides, if you come with a predictable plan, they will outsmart you," de Bruin said.
"You have to adapt as the game carries on. The fact we went to the kicking game against the Crusaders was because of what they offered us – they had Israel Dagg at the back alone, the wingers were up, so we did kick more.
"They often ask if we will kick less or more from an attack point of view, for me it is really simple – it depends what they offer."
If the opposition threw three players back from the first ruck, obviously the Lions were going to run more. If the opposition came up, they would kick more.
"On the question on how you beat New Zealand sides, it is really how you adapt when you play them because they do that – the last thing we expected when we played them [the Highlanders] in Dunedin was the rush defence. The Hurricanes came here and beat us comprehensively," he said.
One of the differences de Bruin has employed is not to pre-progamme players before games. They should be allowed to make decisions on the field. But too often that has been the talk in South African sides, even the Springboks, however, it hasn't been the walk.
And de Bruin doesn't buy into the intensive travel the Highlanders have faced of late being an issue in the game.
The Lions would need to play for all 80 minutes if they were to win, he said.
"They have a very workmanlike pack, so the travel affects them – but they can run.
"Their pack reminds me a lot more of our pack when they are running. When you have slower, bigger guys, they battle more with the travelling thing. It plays a role, especially in the last 20 minutes but they are the type of team, like the Chiefs – the travelling doesn't affect them as much," he said.
De Bruin added that if the Lions have to travel to play the final, that wouldn't be a big issue for them.
They would be happy to accept the challenge that final offered.
"If we have to travel it will be sad, but we love challenges. This team loves challenges," he said.
CRUNCH TIME! Who are YOU backing in the #SuperRugby semi-finals?

Get #HURvCHI tickets here: https://t.co/bIMkNiu14W pic.twitter.com/XP7UaQOUeT— Super Rugby (@SuperRugbyNZ) July 26, 2016